Having experienced my first spa day for part one of my hen do about 4 months ago, and then being spoilt rotten on my birthday with another spa day with The Hubby, I have only recently been aware of Elemis. But so far, I like!
I had a fabulous facial on my birthday, a real treat and desperately needed as my skin has not been great as of late. Why is it that I get TONS more spots now then I ever did when I was a teenager - I smugly thought I'd got away scot free until the last couple of years... Grrr
I came away from the spa feeling very chilled out, clutching my bottles of Balancing Lime Blossom Cleanser and Balancing Lavender Toner with the hope that they will provide the miracle ingredients to clear up my skin.
Well, I'm not too good at remembering to use them daily... but when I do use them, I do appreciate that they're good products. The skin hasn't cleared up just yet due to my lack of dedication - must try harder...
Both times at the spa, I had my eye on the Exotic Frangipani Monoi Moisture Melt but found the cost a little pricey, especially when The Hubby had just forked out for my Cleanser and Toner - didn't want to look too cheeky by asking for this as well!
I was thrilled when I spotted on Friday that QVC were planning to offer the Moisure Melt as part of their Today's Special Value Product today!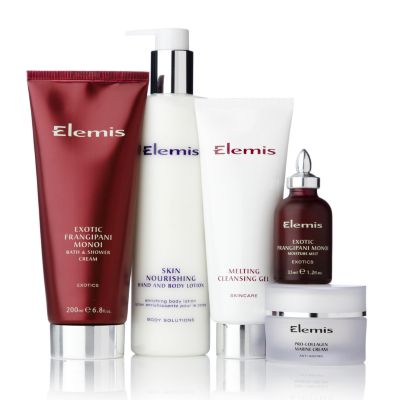 This face and body collection consists of:
A 35ml bottle of the Exotic Frangipani Monoi Moisture Melt. I plan to use this after a shower for maximum effect and also as a hair treatment - god knows I need some moisture in my tresses!
A 125ml tube of Elemis's newest product, Melting Cleansing Gel, an "ultra purifying dual-phase cleanser perfect for challenged, tired and stressed skin". Tick, tick and tick!!!
A 300ml limited edition super size bottle of Skin Nourishing Hand and Body Lotion.
A 30ml tub of Pro-Collagen Marine Cream.
A 200ml tube of Exotic Frangipani Monoi Bath and Shower Cream.
AND a lovely silver bag to keep it all in:

All for the bargain price of 39.96! Wow, I am impressed. Obviously it was popular as getting through the online checkout was a long and frustrating process in which I thought I'd lost out at the last step, which made me give up and go to bed. To my delight, when I checked my email this morning I had in fact completed it all successfully as I had a confirmation - woop woop!
I reckon this would make a brilliant present for someone who deserves some pampering! However, this is my Christmas present to myself, ho ho ho!
Will revert back when I've had a chance to use the products!